Description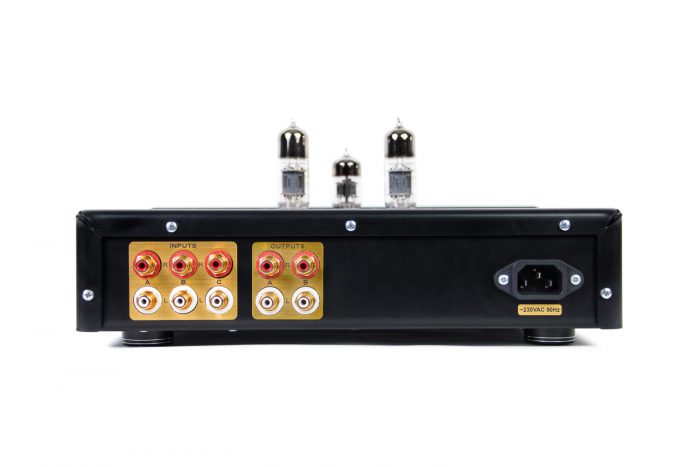 The sound offered by this model is a warm, spatial and dynamic. This is thanks to characteristic of electron tubes that offer a lot of details, which can be modified if necessary by using different models of tubes. The midrange and treble are given in a natural, non-irritating way, so that even prolonged listening to music does not cause fatigue.
HPA Master PRO is equipped with a fully active tube preamplifier, which allows it to be used as a preamplifier between a linear signal source (eg CD) and a power amplifier. The model has a control system for input signals. It is possible to connect up to three signal sources to it. Signal control is realized by mechanical relays, which avoids the impact of the noise on the audio signals. In addition this model offers 100% separation of channels (which normally is not always possible with semiconductor components). The relays switching audio signals are placed in the immediate vicinity of the input sockets, and ensures that the influence of wires on the input signals is omitted. The rotary source selector located on the front panel operates in a circuit completely separated from the audio track and is not responsible for the switching of signals, but only sends messages to the microcontroller that controls the mechanical relays. The output of the preamplifier section is based on two parallel pairs of RCA sockets so it is possible to connect the preamplifier section to two signal receivers (eg power amplifiers).
The amplifier offers the possibility of creating the sound individually by replacing the tubes. The most important influence on changes in the character of the sound has a single driver tube, followed by a pair of power tubes. The HPA Master PRO can successfully use all ECC88 tube equivalents as a control lamp and 6N6P equivalents as a power / output stage tube. Tubes can be replaced without interfering with the interior of the amplifier.
HPA Master PRO works with headphones with an impedance range from 32Ω to 400Ω. Its optimum match in terms of load is obtained with low-noise headphones – up to 100Ω, but can also work with headphones with higher impedance, provided that their efficiency is not lower than 100dB. Otherwise, the headphones may sound a bit quieter.
The operation without the use of output transformers ensures the highest precision of sound and least distortion. The output of both channels is realized from the cathode of power tubes after passing through the Nichicon KZ Muse signal capacitors specially designed for audio devices. The power supply integrated with the amplifier is equipped with electronic filters, which ensures a high work culture (no distortions, noise and hum).
The HPA Master is made in a solid metal housing standing on aluminum legs with a rubber stabilizing the amplifier on the base on the bottom. The network connector is an IEC type socket.